7 quotes from the Media Intelligence leaders at the FIBEP Congress in Copenhagen
9 Ottobre 2018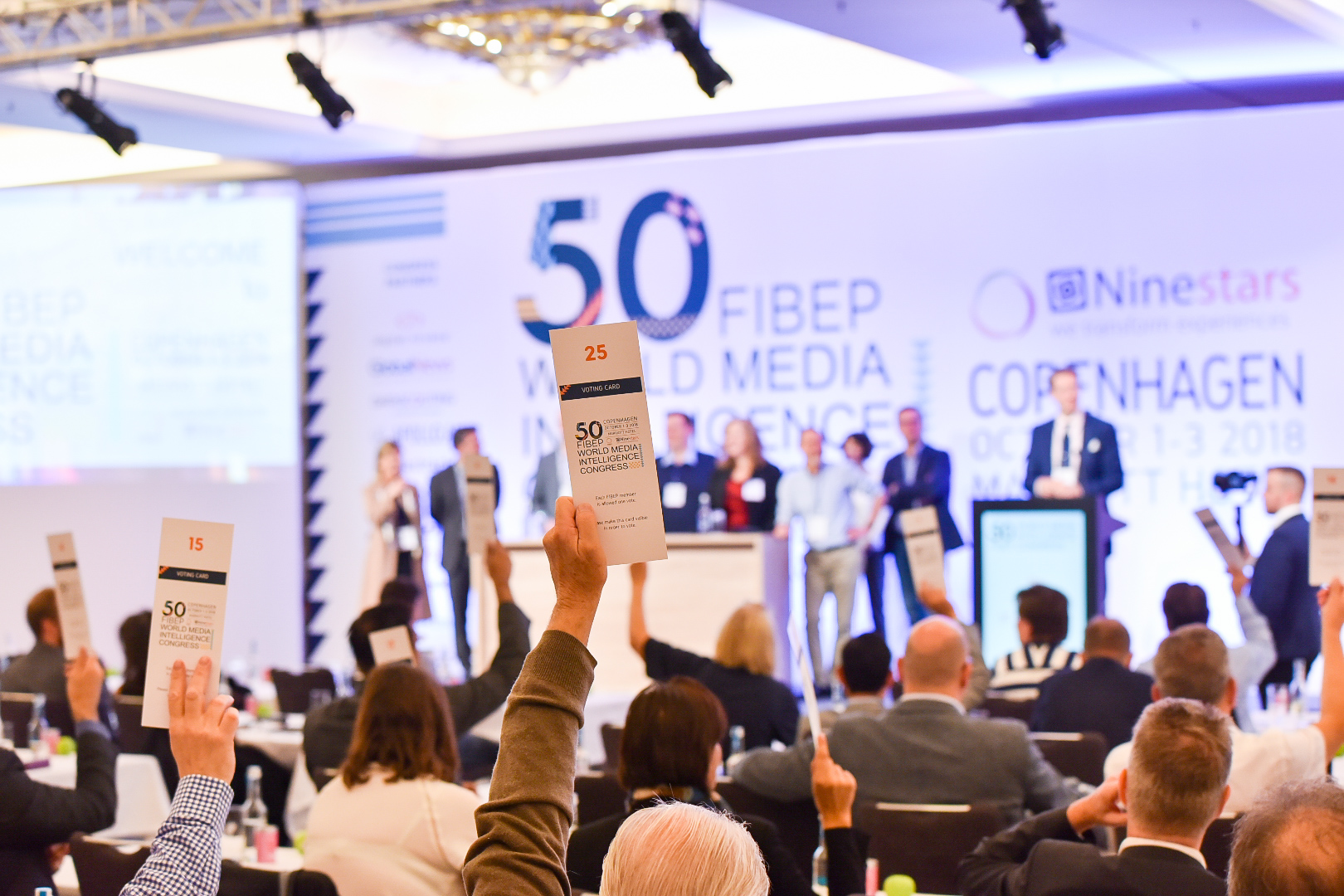 The 50th edition of FIBEP's World Media Intelligence was a highly interesting, diversified and complete congress.
3 days of networking, presentations and so many opportunities to deepen skills and knowledge in the media monitoring and media intelligence field.
FIBEP through the conferences that organizes since 1953 offers this great opportunity to all of its members. To stay on top of the change in a market that is rapidly globalizing.
Social media and digitalisation are speeding up this process in so many ways.
Therefore, the rising value of data for so many successful businesses attracted a great deal of attention to this Congress.
Media monitoring and media intelligence are indeed very interesting industries for their use and management of the big data. Moreover, if we consider the mix of traditional, digital and social media, we are talking about data with a great value and impact for any company.
We had the opportunity to listen to thrilling presentations about new technological solutions, data visualization, design thinking, mergers and acquisitions in the sector, copyright and best practices. This will surely inspire all the participants for the coming months.
In addition to the very interesting program, we had the chance to interview seven industry leaders and collect their quotes. Laura Garcia, President of FIBEP and CEO at Global News, Mazen Nahawi, CEO and Founder at Carma, Oresti Patricios, CEO at Ornico Group, Annele Jokelainen, CEO at Meedius International, Joachim Von Beust, President of Auxipress, Florian Lazlo, Secretary General of Fibep and CEO at Observer, Alessandro Cederle, CEO at L'Eco della Stampa.
How do you think MMo's media intelligence services will change in the next 2 to 5 years?
Oresti Patricios, FIBEP Vice President and CEO at Ornico Group:
Yes, it will change fundamentally. More access to data, more insights and "so what's" and better measurement.

We also need to understand the customer journey, not only from a communication but also from a marketing perspective. We need to consider the customer journey of CEOs and data people.
Joachim von Beust, President at Auxipress:
Our services will have to go to the point and be the most direct possible, in order for the client to see quickly the utility of our services. Our services will be more precise, more accurate and focused on analytics. We will work in partnerships with our clients, side by side in a consultancy direction. Our insights will be strategic.

Monitoring will become less interesting as a general service itself. It will not be anymore the base of our relation with the clients but rather a precise problem to solve with him.

So more precise solutions, clear solutions and to the point.
What is the main advantage of a family company and what can be a disadvantage of the family environment at work?
Annele Jokelainen, CEO at Meedius International:
Trust probably is the best thing of all family companies.

In every family, there might be very outspoken people that say things straight to the point. This may cause clashes, but it might be as well positive in many ways.

The disadvantage of a family company can be the risk of becoming lazy and interrupt the innovation process. Then organizations like FIBEP can keep you on top of new inventions and have partnerships to take you forward faster than with your own resources
What do you think of the acquisition model presented by many speakers during the conference? Is it better instead to focus all energies into your own business?
Florian Lazlo, Fibep General Secretary and CEO at Observer:
My personal opinion is that there is not only one single way to go. Of course, you need to improve your business. Nevertheless, you also need to do acquisitions if you want to improve and become bigger.

Clients tend to stick to their provider for the media monitoring and media intelligence. They normally rather do not want to change their provider so definitely the acquisition model is a good way to scale the business.
Do you see this latest handing of the FIBEP presidency between two business women as a good sign for the information world?
Laura Garcia, FIBEP President and CEO at Global News:
It is an amazing opportunity. I am a woman who loves to be a woman, empowering young women. Johna Burke is the former president of the FIBEP and she will be representing FIBEP inside AMEC.

Many FIBEP companies are inside AMEC too, so we have a good conversation and understanding with each other. A great opportunity to open again the debate on which kind of relation we should have. I want to be collaborative, as I do not see any benefits of being competitors.

FIBEP is now more mature and I believe we can bring this debate to the members with a different formula from the past.
Where are the growth opportunities for the media intelligence and media monitoring industries?  
Mazen Nahawi, CEO at Carma International:
Clients are increasingly understanding the difference between low-cost big data and high-value strategic insights; our industry should remember that while data is important, insights are more important, and we should focus our technology and consulting services to deliver these insights
Alessandro Cederle, CEO at L'Eco della Stampa:
The fast change of the latest year will start speeding up even more.

Technology will be more relevant and the qualities needed to be in the industry will rise to new level: I see data scientists and data visualization experts as the next key positions in the future.

Our biggest challenge will be the extension of our target alongside with the traditional PR to include the Marcom world.
We are happy and proud to be part of such a dynamic work ecosystem. The simple fact that so many companies in the field are family owned is of great help to the overall atmosphere at the Congress.
We travelled back home with our heads full of challenges and new perspectives and optimistic ambitions. Of course, we will keep you posted for any new projects. Stay tuned!
Pietro Biglia & Lisa von Beust